The Golf Travel Agency was created by passionate golfers and travellers alike, who want to help other golfers experience some of the best golf in the world.
We are a full-service travel agency dedicated to delivering exceptional tailored golf holidays at market-leading prices. You are not locked in to specific 'tour dates' or committed to travelling with anyone other than your golfing buddies. Travel on dates that work for you and to a golf destination of your choice!
As golf specialists, we use our firsthand experience and in-depth knowledge of the best golf destinations around the world because we have travelled to most of them, or have partners on the ground in destinations we are yet to visit (but hope to visit soon, of course)! We use this knowledge to help build the perfect itinerary and make your next golf holiday a truly memorable one.
Specialising in groups of 4 or more, including large social or golf club groups, The Golf Travel Agency is your one point of contact for every element of your trip, from flights and transfers, to accommodation, tee times and off-course experiences. With prices comparable to (or even less than) those achievable if you were to book your trip direct, we provide a one-stop shop to take care of all the details of your golf trip, but do not charge you any more for doing so.
In addition to organising your tailored golf trip, we host an annual escorted tour to the US Masters Golf Tournament every year. This is open to singles, couples and small and large groups.
The team at The Golf Travel Agency has been involved in golf or working in the golf industry for most of their lives and they each bring different skills, experiences and personalities to the company which we believe is of great benefit to our customers in helping them enjoy the best golf holiday possible. Following is a little bio on the members of our management team.
Mike Sidgreaves – Managing Director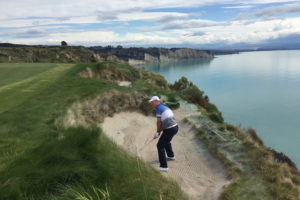 Mike started playing golf at 12 years of age, and it immediately became one of the real passions of his life. His earliest memory of the game was waking up early during that first full week in April to watch the US Masters and he feels absolutely spoilt that his job now involves travelling to the US Masters in Augusta every year as part of our annual US Masters Tour. The first club Mike joined was Cammeray, on Sydney's lower north shore, and in his later teenage years he joined Concord Golf Club, who he represented in Major Pennants and other inter-club events over many years. Mike is still a member of Concord to this day and is also a proud member of The Royal Sydney Golf Club.
Prior to starting the business in 2012, Mike's previous career included extensive travel throughout the world, which not only made him a highly seasoned traveller, but also enabled him to play some of the great golf courses of the world. It was this love of travelling and appreciation for the experience of playing such wonderful courses that led him to the golf travel industry after selling his previous business that he had built up successfully over the preceding 20 years.
Mike's 3 favourite courses – Cypress Point (USA), Tara Iti (NZ), The Old Course St Andrews (UK)
Mike's last golf trip – The East Coast of USA
Mike's next golf trip – The US Masters
Mike's dream 4-ball – Mike, Bobby Jones, Adam Scott, Jordan Spieth
Andy Britton – PGA Professional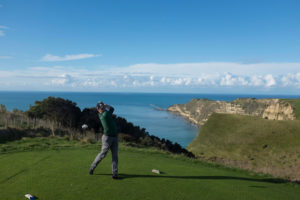 Andy was introduced to golf at age 13 during the 1989 British Open, being played at Royal Troon that year, when a family relative asked if he'd like to go with him to the driving range. As a 13-year old boy he thought (and hoped) he meant driving as in go-carting, but his initial disappointment when he realised what was meant quickly turned into the sporting passion of his life.
In 2003 Andy qualified as a British PGA Professional based at Meyrick Park in Bournemouth, England. The region is blessed with some of the finest heathland courses in England. At that time, he also worked for Cobra Golf (then part of the Acushnet Group) and in that capacity, along with other playing opportunities, played many of the great courses in the UK.
After meeting a local Sydney girl while in Australia to watch the Ashes Tour of 2006-2007, Andy moved permanently to Sydney later in 2007 and has continued to work in the golf industry since. He has been a club pro, a driving range pro, a teaching pro, a club fitter and a golf shop owner – however it is golf travel that has long fuelled his passion for the game, and hence why he joined The Golf Travel Agency. Working with The Golf Travel Agency allows him to use his extensive golf industry background and experience to deliver great golf holidays for our clients.
Andy's 3 favourite courses – St. Enodoc (UK), Barnbougle Dunes, Ocean Dunes
Andy's last golf trip – New Zealand's North Island including Cape Kidnappers & The Kinloch Club
Andy's next golf trip – escorting a group to King Island to play Cape Wickham Golf Links & Ocean Dunes Golf Links
Andy's dream 4-ball – Andy, Seve Ballesteros, Nick Faldo, Rory McIlroy
Colin Hunt – PGA Professional
Colin didn't start playing golf until the age of 15, his sporting life otherwise consumed by cricket, soccer and baseball. The golf bug bit very hard though and Colin left school at the age of 16 to become a trainee golf professional at Cammeray Golf Club (much to the dismay of his academic father)!
Upon completion of his traineeship, Colin was convinced with dedication and desire he would be a successful Tournament Professional. This career path proved unsustainable and he set about forging a more stable career as a Club Professional.
Colin was able to secure positions at some of Australia and New Zealand's leading resort clubs such as Hyatt Coolum, Sanctuary Cove and Millbrook Resort in Queenstown, NZ. To follow was 9 years at Terrey Hills Golf and Country Club and 4 years at Clearwater Resort in Christchurch, NZ before Colin reached the pinnacle of his Club Pro life in his appointment as Director of Golf at The Royal Sydney Golf Club, a position he held for a decade.
Some 40 years have passed in the golf industry and yet Colin maintains he is still just as passionate about playing, teaching and studying the game and he competes regularly on the PGA Legends Tour.
Colin's favourite courses – Pine Valley (USA), Cypress Point (USA) and Ballybunion (Ireland).
Colin's last big golf trip was a Links extravaganza in Ireland
Colin's next golf trip – 5 x Legends Tour Pro Ams on the Melbourne sand belt
Colin's dream 4-ball – Colin, Seve Ballesteros, Tom Watson, Fred Couples
Jason Launder – Senior Golf Travel Specialist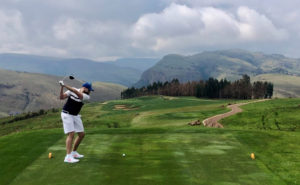 Golf entered Jason's life somewhat by accident; after being taken to a par three course for the first time at age of 13, the game that was meant to occupy him for few hours, instead became a lifelong obsession. After only a year of playing, he was down to a 4 handicap, and by 15, scratch. Born and raised in South Africa, Jason and his family moved to the UK when he was 14, where he landed a scholarship at Wentworth Golf Club. His golf turned from casual to career over the next few years, with an opportunity for sponsorship offered to him at 18. He played on various tours and enjoyed his time playing in the professional arena. By age 25 however, he was hampered by injuries, and decided to call it a day on playing professionally.
From here, moving into the golf travel industry was a natural eventuality; with his global knowledge of golf and passion for game, coupled with his experience of hotels and travel as a golfer, Jason took to the industry immediately. He became a valued fixture at one of the largest golf travel companies in the UK, where he stayed for the next five years, focused on building up the portfolio of several international destinations.
His move to Australia came after his partner, a Sydney born girl, brought him back for a holiday over Christmas in 2018.
Everything in Sydney reminded Jason of his home and childhood in Durban, South Africa, and so the couple decided they would make the move to Sydney together at the end of 2019.
In 2020, Jason became an Australian permanent resident (though, he is still a proud South African supporter, to be clear…)
Jason's 3 favourite courses – Leopard Creek (South Africa), Yas Links (UAE) & Sunningdale (UK)
Jason's last golf trip – Durban in South Africa revisiting my old stomping ground and some new courses
Jason's next golf trip – Barnbougle
Jason's dream 4-ball – Jason, Tiger, Seve Ballesteros, Ernie Els